Problem: I was so embarrassed when some computer guru discovered that I left my name in the Document Properties dialog. The press traced that press release from the White House back to my lobbying firm. Who knew that Excel stored secret hidden information?
Strategy: There are dozens of places where data can get hidden in Excel. The new Document Inspector can find 90% of them. Before you try to pass your work off as someone else's work, try to cover your tracks.
To look for hidden data in your workbook, run the Document Inspector. Use File, Info, Check for Issues, Inspect Document.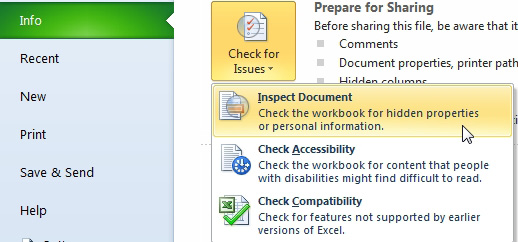 Inspect the document.

Excel will look for all the situations shown here.

Gotcha: The Document Inspector finds a lot of hidden data, but not all hidden data. For example, if you hid data by formatting with a white font, or if you used the ;;; custom number format, it will not detect either of these. Further, some personal information might be stored in the Manage Names dialog. The Document Inspector will not discover this information. The figure below shows a cell with white font and another cell formatted with ;;;. As you can see, the Document Inspector reports neither of these.

Excel helps people cover their tracks.

Additional Details: The new ExcelAnalyzer software can detect all hidden elements, even the common tricks like ;;; formatting and white font. For more details, see http://www.mrexcel.com/excelanalyzer.html.

Invisible content didn't find this white font.